So this income report marks 6 months of tracking my passive and side hustle income. Over these 6 months I have manged to earn $5,644.34 total. I am absolutely thrilled with this number. It means that I am well on my way to having the option to survive without requiring a job.
For the next 6 months my goals are to get over $1,000 per month to try and get some consistency to the income. Also I would to add at least two more sources of income from side hustles. This is important to me to diversify my income streams as they are not all guaranteed, case in point – matched betting.
On the blog this month I published a post about cashback programs. While not a way to make large income, they are a great way to get a discount on purchases you were going to make anyway. Check out the post for some more info on the programs I've tried out.
Without further ado, let's have a closer look at May's income:
Passive Income
| | |
| --- | --- |
| Investment | Amount |
| APN AREIT Fund | $53.32 |
| APN Asian AREIT Fund | $54.56 |
| Charter Hall PFA Fund | $115.65 |
| UBank Interest | $44.16 |
| RateSetter Interest | $2.34 |
Nothing new with my passive income sources in this income report, they are just trucking along providing some nice stable income. The UBank interest increased a bit because I consolidated my savings account but I also had a rather large outlay which will reduce the income from next month unfortunately.
Once again, RateSetter interest is still decreasing due to my extraction of my capital. I think there is still another year left in the loan contract, so I am slowly getting my capital back.
Side Hustle Income
Another decent month of matched betting, returns are lower than last month. I suspect due to some lower EV (expected value) plays and the some of the bookies have started banning my accounts from promotions. This was expected but I am still happy with the income I am receiving. I still have access to some solid bookies which seem to be either less concerned about the money I'm winning off them. Or they can't identify my patterns, either way hopefully I can continue to extract upwards of $500 a month for a while longer.
A total of $1,031.58 this month!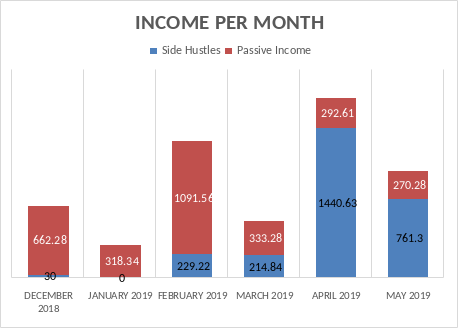 Another month over $1,000, that's two in a row and three months above $1,000 in total. This is great, as stated I would love to be able to get consistently over $1,000 per month for six months. That is the goal and it would really make my income secure and reliable. However I think to for that to happen I will need to diversify and add some streams to take over from the matched betting. I have a few thoughts in the pipeline and will hopefully give some of them a run this month. As always hope these updates are informative and helpful; please leave any comments you have below.