As predicted in the previous month's update, I hit a major slump in terms of income. With my matched betting income all but dried up and my other side hustles not realising any income yet its been a low month.
Before we get into the income report break down, Beem It (which I did a post on here) is running another $5 bonus promotion for new users that sign up. You can use the referral code EK4JAA to get access to the $5, which we will receive as well.
Let's dig into August's income:
Passive Income
| | |
| --- | --- |
| Investment | Amount |
| APN AREIT Fund | $53.32 |
| APN Asian AREIT Fund | $54.56 |
| Charter Hall PFA Fund | $119.63 |
| UBank Interest | $24.59 |
| RateSetter Interest | $1.78 |
Passive income sources has once again been solid with the Charter Hall fund getting a slight boost in distributions.
RateSetter still have their spring special offer running currently. If you invest $1,000 in the 1 month rolling or 5 year markets they will give you a bonus $50. You need to sign up through this link to access the offer before 31st of October. I will also receive $50 if you meet the criteria for the offer. This offer is a good opportunity to try out RateSetter and see if it right for your investment strategy.
Side Hustle Income
As mentioned, this income source has all but dried up. I only expect a maximum of $100 per month for a while as I access a few remaining promotions. With traveling an holidaying a lot recently I haven't had much time to devote to developing my other side hustles. But I have some more time now, so I will be kicking into that and sharing them in some future posts. Thankfully the passive income helps keep everything a lot for now!
A total of $621.27 this month!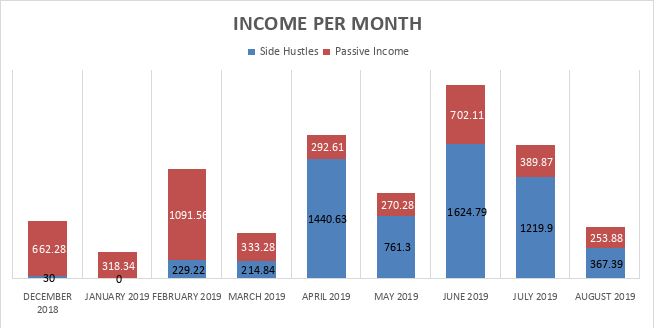 One of the lowest months I have experienced and unfortunately breaks the consistent $1,000 per month goal I had. So I will need to continue working hard to get above that line again and stay there for longer!
As always hope these updates are informative and helpful; please leave any comments you have below.